Health Insurance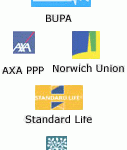 We are recognised by most Major Insurance Companies, please check with your insurer that you are covered prior to your appointment.
With all insurance policies patients pay us directly and then reclaim, except BUPA.
BUPA patients, please confirm authorization number and any Excess payable prior to direct payments.
In September 2016 two Health providers, AXA PPP and Vitality Heath approached us to invoice them directly. We were instructed to use a third party billing system which carries additional costs and a great deal of administration on our part for their benefit. We have also been instructed that our fees payable will be almost 50% of existing charges. In the case of AXA the number of sessions per problem treated has reduced from 10 per annum to 5.5. We have been informed that this is for the benefit of yourselves their client. We disagree, and find this approach financially impossible. Therefore we are unable to be recognised by them. Should you wish to continue using our services and claim back fees paid, please contact your insurer direct prior to making an appointment.